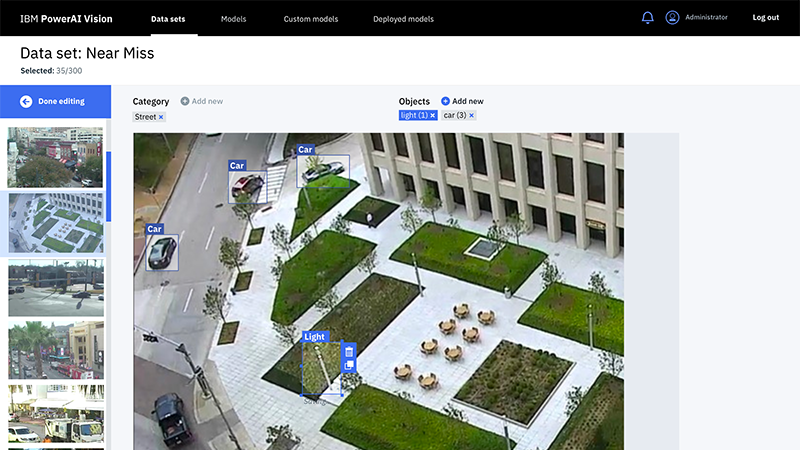 Introducing IBM PowerAI™ Vision for Talos™ II
If you are interested in developing deep learning models for Computer Vision applications, IBM PowerAI™ Vision provides an ecosystem to label raw data sets for training, and deploying deep learning-based models. IBM PowerAI™ Vision is designed to empower subject matter experts with no skills in deep learning technologies to train models for AI applications. The offering applies AI to accelerate labeling of datasets, augment datasets to accelerate labeling of datasets, to improve final model accuracy, and supports the use of both still images and videos for training.
IBM PowerAI™ Vision provides a trial license for developers and startups to experience the ease of developing solutions leveraging Artificial Intelligence capabilities.
Our hardware, based on the OpenPOWER architecture, supports the IBM PowerAI™ Vision software stack when paired with an appropriate proprietary NVIDIA® GPU. Our Talos™ II series of products can be configured to meet any need in the machine learning sphere, from developer systems to full fledged servers. We recommend our Talos™ II PowerAI™ Development System package, which includes an NVIDIA® RTX 2070 GPU, as a starter ready-to-run platform for IBM PowerAI™ Vision.
The Raptor Computing Systems Official Wiki

Feedback, Sales, and Support Contact the IBM sales team at IBM Marketplace to purchase IBM PowerAI™ Vision Enterprise Edition.
For feedback and support questions about IBM PowerAI™ Vision Software with Trial license, you can contact the developer team at the IBM Developer Works Forum.
For feedback and support questions about Raptor Computing Systems products, including Talos™ II and Blackbird™, you can contact us at sales@raptorcs.com
Graphics and targeted content copyright © 2023 Raptor Computing Systems, LLC. All rights reserved. No pages or files may be distributed without express written permission.
Site design, contents, and implementation copyright © 2023
Raptor Engineering, LLC
. All rights reserved, used under license.
This website makes minimal use of cookies. Use of this site constitutes acceptance of this policy. Terms and conditions of use / contact information.